Jeanne Beard's Autism & The Rest of Us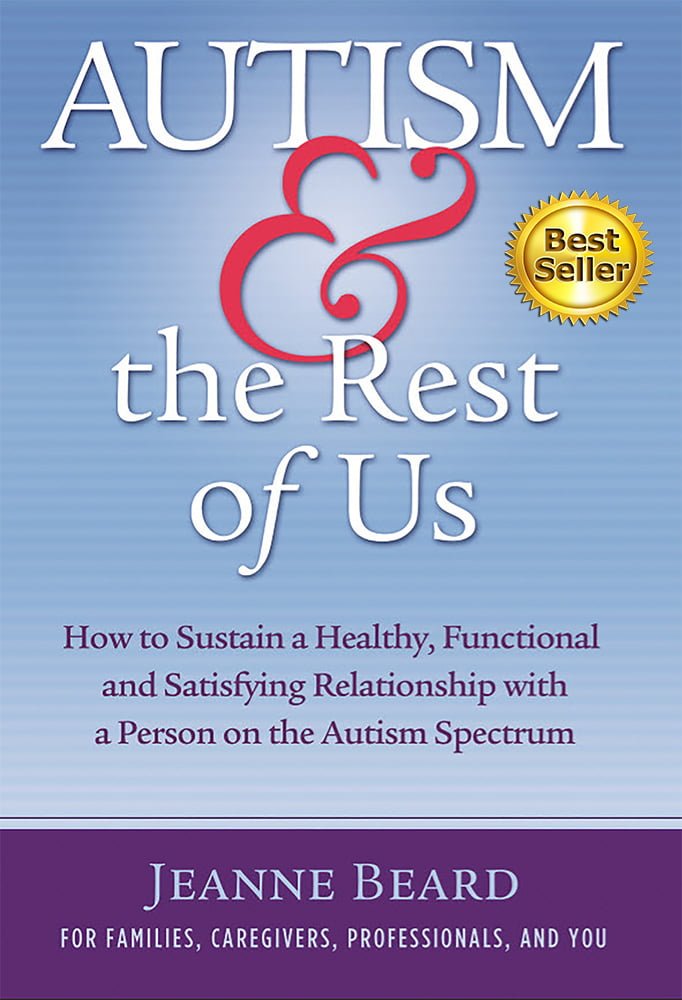 "Autism & The Rest of Us" Amazon Book Reviews
As a Speech/Language Pathologist and national trainer on the subject of ASD (Autism Spectrum Disorder), I find Beard's book to be one of the very finest I have read on this subject. She manages to capture the essence of ASD in a most readable and unique fashion, utilizing both the clinical and emotional aspects of trying to be in a relationship with someone with ASD. This is NOT a 'poor me' book…but rather one that shares information, tips, and generous, heartfelt shares about the reality of living with ASD. Jeanne offers the reader a hopeful and yet realistic outlook on this subject….she doesn't pander to the heartstrings but includes the realities of the various feelings and frustrations that often accompany life with ASD…..along with offering tried and true strategies for the management of oneself, siblings and the community. She includes real examples which breathe life into her suggestions. I cannot recommend this book too highly….to ALL individuals who encounter individuals with ASD.
Jeanne Beard does a superior job of clearly showing us how to live with loved one's, friends and neighbors living with ASD and how to manage those relationships that benefits all parties affected. Jeanne Beard gives HOPE!
Jeanne Beard approaches autism spectrum disorder for those who aren't personally affected in a clear, concise, kind, and realistic fashion. There is a great amount of wisdom to be had in this book. Most of us know someone who is affected by this disorder and could benefit from the knowledge imparted in these pages. A must read!
This is an incredible book for those of us who want know more about what life really feels like for a person on the spectrum, and how we can take care of ourselves as we are living along side them. I am amazed by the amount of information Jeanne presents in her book. She covers statistics on how autism is the United States is increasing annually, tells us how to separate the autism from our loved one who has it, and defines the sometimes confusing social behavior of the autistic person. There is also a lot of very valuable information on how we can make our relationship with our loved one, a loving one! I highly recommend this book to all people who want to learn more about autism, and how they can grow themselves when touched by a person with autism. Thank you Jeanne for your huge contribution!
Even though this is a serious subject, it is refreshing to read about a mother's real life experience on living, loving, supporting and providing for her autistic son. Many times on this type of subject matter, the information comes off in a clinical, sterile, and statistical way. Jeanne Beard "personalizes" Autism, which helps readers understand better on how to utilize the information presented here. Thanks Jeanne Beard for stepping up and sharing your journey with us!
Timothy J. Walhberg's "Finding the Gray"
"Finding the Gray
Finding the Gray provides parents and professionals alike with useful information and clear strategies to cope with behaviors associated with autism spectrum disorders. Dr. Wahlberg's conversational tone invites readers in; his ability to empathize and relate to parents and teachers offers a respite for those who don't know where to turn for help. This book has the power to change lives.
"Finding the Gray" Amazon Book Reviews….
I have a child that was diagnosed with Autism in her early teens. I have read many books on Autism since then but this one was the most helpful in a practical way. I now understand that her extreme stubbornness is not unusual for people on the spectrum and how to motivate her. I did not fully comprehend the extreme of her thinking until now. The many stories about his patients are entertaining and useful because I can see my daughter in some of them and know that she is not alone in some of these behaviors. I wish I had read this book sooner. I would recommend this book to anyone working with people with Autism, especially parents and school staff.
Rarely does a book accomplish as much as Finding the Gray. In this excellent resource, Dr. Wahlberg has provided his readers a way to see the world through the eyes of Asperger's/autism spectrum disorder (ASD). He helps us understand the black and white world of persons with ASD and shows how their sensory awareness, perceptions, and particular logic direct their seemingly illogical actions. In down-to-earth style, with many examples drawn from his years of experience with this disorder, Dr. Wahlberg offers both therapists and family members what they need to understand and respond to a person with ASD with less frustration and greater effectiveness. With hope and optimism, he teaches his readers to carry out practical management of social interactions and sensory challenges so that people with ASD can fulfill their potential to live happy, productive lives. It is a must-read for anyone who works or lives with a person on the spectrum.
This is an excellent resource for parents, teachers, and therapists working with AS kids. It is written in a user friendly way that even I as a parent with a newly diagnosed child could understand. It explains what the child feels and how he/she thinks. It also goes through the way the brain actually processes information in an AS child and best of all, how to help the child recognize their own challenges with strategies to overcome them. How parents and teachers can help and make life better. I have read it twice now and pull it out as a reference frequently. We also bought copies for our babysitter, family, and teacher. I highly recommend it.